Summer is nearing so I thought, " What better posts for the summer than  a swimsuit series?" I've decided to make a whole series about which swimsuits are best for which body types, certain body issues, and occasions! This series should hopefully make you feel beautiful in your body no matter what it looks like! Because even though your body is yours, and you should never let anyone judge it, we usually judge ourselves the most. So if your worried that your belly is too big, or that you look too flat, or that your breasts will fall out of your bathing suit, this is the series for you! Over the next few weeks I will be posting several posts about these topics. I hope you enjoy and start loving your body for the way it is by the end of this series!
Today I am talking directly to the Itty Bitty Titty Community, which I am a part of. In case, you haven't heard of this term before, us flat-chested women decided to make a community for ourselves to help us feel better about our flat chestedness. So if you are flat chested as well and are nervous for the summer because of how certain swimsuits love to showcase how it seems that we are missing something ;), this is the post for you! I have rounded all the tips that we can use to help us seem less flat-chested!
Shirring, ruffles and embellishments: Shirring, ruffles and embellishments across the bust are great for adding some fulness to your chest so that it doesn't seem as flat. The different texture also drive the eye to the texture and not really your chest.
Bring eye to bottom: Wear bottoms that are bright, patterned, slitted, distracting! The point of this tip is to distract the eye away from the chest and to the bottoms instead.
Bandeau style: Bandeau style brings more attention to your collarbone and neckline, also did you notice how triangle bikinis make you seem even more flat chested than usual? Well that is because triangular tops leave the central part of your chest uncovered. So, if you want to hide your flatness, find a bandeau because it will cover that area. You should go for a padded bandeau top that  is ruched at the center and has halter ties.
Elongate legs: Once again to you want to distract the eye from looking at your chest, so by making your legs seem super long by wearing a bathing suit that's cut up high, you make straight lines and for some reason our eyes are attracted to straight lines. Making your legs seem super long will surely keep people from noticing how flat you are up there.
Padding: You can always buy a push-up bikini top, although I don't recommend it because that makes your bikini really thick. If its thick, it's harder to swim with and will take a very (and I mean very) long time to dry. But it will giver you some cleavage so if you really want too…
Halter ties: Halter tops pull up your boobs,giving you a cleavage effect . But don't buy a halter top that  where it is on a string, buy one with a band at the bottom. You'll be amazed by the wonder this can do! if it has pushup as well it will make them seem at least a size larger.
High neckline: With a high neckline, you leave things to a person's imagination! So if they don't see how much is there (or isn't ;)) they won't really know how much there is  and people's imaginations are usually bigger than reality so this is in our favor!
Contour:  For those of us that cheat occasionally, you can always use some makeup to help. Just dust some bronzer where the cleavage should be. This will make it seem like there is a shadow casted from your boobs! It sounds weird, i know, but trust me it works. Just don't wear white with this method!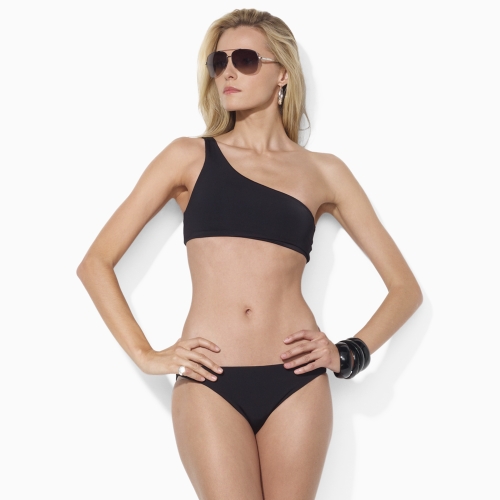 Asymmetrical: Asymmetrical bathing suits bring attention to your shoulders instead of chest, they are hard to find but they really add some interest and draw up and away from your chest directly.
Horizontal stripes up top: Everyone knows the rule to not wear horizontal stripes because it makes us seem wider. Well to every rule, there is an exception and this is it. Wear horizontal stripes to make your boobs look fatter. Self-conscious about your hips being too wide already? Then just have stripes up top and keep your bottom one color.
Rock it like a model: If you get sick of always feeling like  a five-year old or don't have time to use these tips, remember that you are perfect the way you are and that you should never change yourself for other people! I know this is hard and that's why I made this list, but honestly just be grateful for what god gave you and look on the bright side! In my opinion small boobs are great! They have so many pros to them except that to some guys that aren't very visually appealing, but if someone loves you, they won't care what your boob size is! Also most models are flat chested and models define beauty so… do the math! Walk down the beach, looking forward, posture up right, and strut your stuff like a model on a runway! If you have a full bust, don't worry I got you covered with a post coming up on Monday! Thanks for reading!
Previous posts:
kisses,
Kat